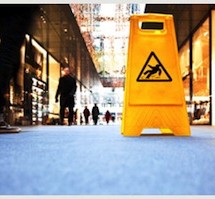 Offices are often a place where a lot of different tasks are taking place, with people rushing about meeting deadlines, and if the office isn't taken care of properly or following the proper health codes there could be a chance for premises liability in Orlando, Florida.
The Center for Disease Control explains that, "Maintaining a healthy office environment requires attention to chemical hazards, equipment and work station design, physical environment (temperature, humidity, light, noise, ventilation, and space), task design, psychological factors (personal interactions, work pace, job control) and sometimes, chemical or other environmental exposures."
In order to avoid accidents such as slip and falls, injuries due to fallen products, or injuries due to equipment malfunctions then take the time and follow protocol and keep your employees safe. If someone suffers an injury on property that has not been properly maintained or secured a premises liability claim against the owner or occupant of the property can be filed. It is important if you have a Premises Liability claim that you consult with an attorney as soon as possible to ensure that the critical evidence is preserved. Frequently the property owner will remove or correct the unsafe condition before you have a chance to document it. If you need an Orlando Personal Injury Attorney then please give Legally Pink Law a call today to schedule an appointment.