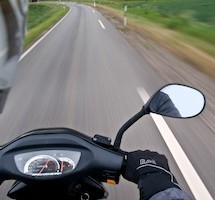 Legally Pink Law knows that automobile accidents are always devastating but the effects of a motorcycle accident are often more concentrated due to the lack of protection a motorcycle offers. More than 80 percent of all reported motorcycle accidents result in serious injury or death. Because of this fact, more than ever you need to be represented by an attorney if you have been in a motorcycle accident to ensure you get the medical attention you need, your medical bills are paid, your wage loss is paid, and your motorcycle is properly repaired.
According to the U.S. Department of Transportation's National Highway Traffic Safety Administration:
Motorcyclists are 35 times more likely experience a deadly accident on the road than those in passenger cars.
In 2006, 88,000 motorcyclists were injured in highway accidents alone.
In 2006, 4,810 motorcyclists were killed in road accidents.
11 percent of all roadway accidents that occur in the United States involve motorcycles.
If you have been involved in a motorcycle accident, you'll have a much better chance at winning the maximum financial compensation you deserve if you retain an experienced Personal Injury Attorney. Motorcycle accidents are different than motor vehicle accidents in many ways and you need an attorney who understands those differences in order to maximize the value of your claim. People that own a motorcycle do not have Personal Injury Protection benefits, which would typically pay for initial medical treatment in an accident. Unless you have health insurance you may be left trying to figure out how to even get the medical attention you need. An experienced motorcycle accident attorney, such as attorney Carolyn Salzmann, can walk you through this process and ensure that you do get qualified, competent medical care and treatment so call our office today to schedule an appointment.