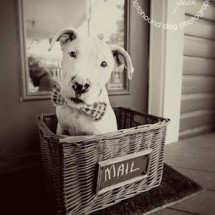 Legally Pink Law enjoys helping local organizations in their spare time when not assisting clients in Central Florida with Personal Injury Cases. A local photographer, Erica, who specializes in animals stopped by our office last week to have a mini-photo shoot with an adorable dog named Ferdinand. Erica specializes in photographing animals and graciously donates her services to local animal rescue and adoption organizations, providing them with photographs of these adorable pets.
When Erica and Ferdinand were exploring the area where our office is located, they stumbled upon our doorstep and our mail bin! Ferdinand is an available puppy from Dolly's Foundation in Thornton Park. The purpose of Dolly's Foundation is to rescue, rehabilitate and rehome homeless, neglected, and abused pit bull type dogs, as well as preserve, promote, and bring positive awareness to the breed and the negative stereotype bestowed upon them.
Erica volunteers her time to show people these animals that are available for adoption to encourage people to bring a new member of the family into their home. Ferdinand is approximately 3-4 months old, sweet as can be and was born deaf so he's learning his sign language. He's available for adoption at DollysFoundation.org. Carolyn Salzmann, Personal Injury Attorney in Orlando Florida, encourages you to visit this website or any local animal rescue and adoption organizations and find a pet to adopt!