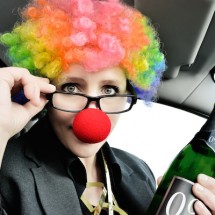 At Legally Pink Law, PLLC, we want to remind you that this weekend will likely bring a host of costumes behind the wheels of neighboring cars. Don't get distracted!
As people head to and from costume parties and Halloween-themed events, it's easy for a clown or a non-human looking driver to distract you as they drive past. However, be aware that it's costume season and remind yourself to stay focused on the road ahead. Sure, it can be distracting to see a giant bumble bee driving the car to your right, but keep those eyes focused ahead!
As with other holidays, it's also important to remember that many drivers may be under the influence of alcohol. If you plan to be out late near Halloween, watch for signs of careless drivers and be sure to leave room between you and them. If you find yourself in the unfortunate situation of an Orlando car accident, contact your team at Legally Pink Law, PLLC for representation.