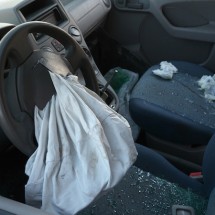 Following several problems with airbags deploying and sending shrapnel into the faces and necks of drivers and passengers, Honda recalled affected models for airbag replacement. Before the recall, however, Orlando woman Hien Tran, age 51, died from shrapnel in one such faulty airbag.
When Tran was initially cared for, medical responders were confused by what appeared to be stab wounds covering her neck. Because the recall was not yet public, medical personnel had no idea that the airbag could have caused such injuries.
Following the September 29 accident, Tran's death, and the Honda/Takata recall, surviving family members filed suit against the companies today in Orange County court. If you have questions regarding the impact of the faulty airbags in your Orlando car accident, contact attorney Carolyn Salzmann today.