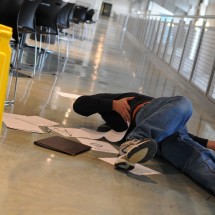 Florida law requires that property owners have to ensure their spaces are safe for employees, customers, and visitors. That includes proper maintenance and upkeep. If you've been injured because a property owner failed to maintain their premises, call your Orlando personal injury attorneys for representation.
Premises Liability cases can result from:
• Slip/trip and falls
• Dog Bites
• Negligent security
• Construction site accidents
• Pool injuries or drownings
• Falling products at stores
If someone suffers an injury on property that has not been properly maintained or secured a premises liability claim against the owner or occupant of the property can be filed.
Timely documentation and photographic evidence are important in a premises liability case. If you're able, take photos on the scene or call us and we'll send an investigator immediately. If you don't act quickly, the property owner or manager may be able to obscure the cause of the damage or fix their neglected property.
If you or someone you love was injured due to premises negligence, call Legally Pink Law, PLLC today!