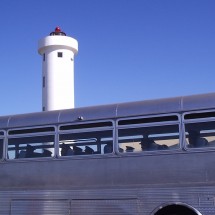 As your Orlando car accident attorney, we know that your life can be altered in a split second when it comes to being involved in an auto accident. Recently an Atlanta-bound Greyhound bus was involved in a fatal five-car crash.
Nearing the Florida-Georgia border on April 4th, a Greyhound bus became involved in a crash initiated by a Buick driving the wrong way on I-75 in Florida. The bus and two other vehicles swerved to avoid a head-on collision with the Buick. Unfortunately the Buick struck a Ford Expedition killing the drivers of both vehicles. Of the 42 passengers aboard the bus, thirteen were taken to local hospitals with minor injuries. They are unsure whether alcohol played a role in the wrong way driving. A replacement Greyhound driver was sent to pick up the unharmed passengers and they continued their journey to Atlanta.
At Legally Pink Law, PLLC, we know that no one is ever expecting to be involved in a life altering auto accident. Should you find yourself the victim of an unfortunate auto accident please contact our firm today for a free consultation.