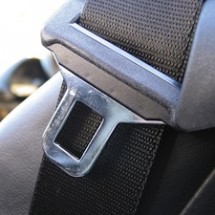 We have all seen the signs, "Click it or Ticket," but Legally Pink Law wants you to know why it's so important to buckle up those seat belts the moment you get in the car.
The Center for Disease Control and Prevention explained that, "Motor vehicle crashes are the leading cause of death among those age 5-34 in the U.S. More than 2.3 million adult drivers and passengers were treated in emergency departments as the result of being injured in motor vehicle crashes in 2009. Adult seat belt use is the most effective way to save lives and reduce injuries in crashes.' Yet millions of adults do not wear their seat belts on every trip."
While automobile accidents are a stressful occurrence and can't always be prevented, wearing a seatbelt can reduce injuries if you are involved in a crash. One of the first questions the police officer as well as your insurance agent will ask is, "Were you wearing your seatbelt?" You may not realize how big of an impact wearing your seatbelt can actually have. The CDC shared these statistics about the importance of seatbelts:
Seat belts reduce serious crash-related injuries and deaths by about 50%.
Air bags provide added protection but are not a substitute for seat belts. Air bags plus seat belts provide the greatest protection for adults.
If you have been involved in an automobile accident in Orlando, Florida and need a Personal Injury Attorney then give our office a call today to schedule a consultation.