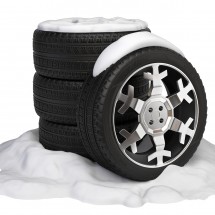 For Florida drivers traveling across icy roads this holiday season, Orlando personal injury attorney Carolyn Salzmann reminds drivers how to react if those rear wheels skid. We want to help you avoidauto accidents!
If your rear wheels skid…
Take your foot off the accelerator.
Steer in the direction you want the front wheels to go.
If your rear wheels start sliding the other way as you recover, you might have to steer left and right a few times to get your vehicle completely under control.
If you have anti-lock brakes (ABS), do not pump the brakes. Apply steady pressure to the brakes. You will feel the brakes pulse, but this is normal as you regain control.
And no matter where you travel this holiday season, Legally Pink Law, PLLC can represent you in the case of an auto accident. Attorney and engineer Carolyn Salzmann knows the biomechanics of auto injury, and she will work hard to get you the highest compensation possible for your personal injury claim.
Sources: National Safety Council, New York State Department of Motor Vehicles, Washington State Government Information & Services