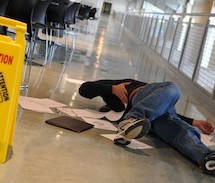 If you are in need of a Personal Injury Attorney in Orlando, Florida because of any accident related to negligence due to someone else, then Carolyn Salzmann is here to help. Property owners are responsible for keeping their premises safe so that no harm comes to any who comes in contact with it. However, this is not always the case and some property owners do not take all the necessary precautions. Often this negligence by the property owner will result in serious injury or even wrongful death.
Premises Liability cases cover a wide range of cases which include:
• Slip/trip and falls
• Dog Bites
• Negligent security
• Construction site accidents
• Pool injuries or drownings
• Falling products at stores
If you have suffered an injury on someone else's property because they have not properly maintained or secured the premise than you may have a case and will be able to file a claim. It is important if you have a Premises Liability claim that you consult with an attorney as soon as possible to ensure that the critical evidence is preserved. Frequently the property owner will remove or correct the unsafe condition before you have a chance to document it. At Legally Pink Law we send our investigators to the accident as soon as we get your case. This ensures that you have the highest recovery you can for your case. Don't let someone else's mistake cause you more harm than it already has. The Salzmann Firm helps you every way we can in order to move your case along quickly with the quality and care it deserves.
If you find yourself with a Premise Liability Claim then please give our office a call at 407.423.4560 to schedule a consultation.