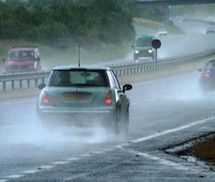 The Orlando Sentinel reported earlier this weekend on the driver of a jack-knifed semi truck causing hours of delays on Orlando's Interstate 4.
As with many Orlando car accidents, this accident was apparently caused by a combination of speed and wet Florida roads. After drizzling weather, it's easy for the roads to become slick and for drivers to lose control. According to the news report, that may have been the cause of the accident here. Drivers were apparently changing lanes ahead of the semi, when the truck driver had to slow and then lost control on wet roads.
Portions of I-4 were apparently blocked for 5 hours following the incident. The team of all-female attorneys at Legally Pink Law, PLLC remind you to always use caution during inclement weather and to use an abundance of caution when changing lanes in front of or near a semi truck.