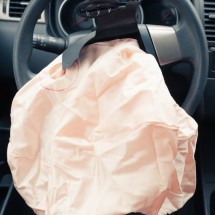 At Legally Pink Law, PLLC, we're your Orlando car accident attorney resource following any mishap on the road: even when injuries are the vehicle manufacturer's fault!
You've likely heard news stories recently about Toyota model cars and airbag issues. The airbag manufacturer Takata has acknowledged that airbags have failed on deployment sending sharp metal fragments and other shrapnel into the faces and necks of accident victims. This is incredibly dangerous for drivers and passengers alike; the device designed to save you in an accident can actually cause fatal injuries or lifelong disfigurement. Police were baffled when a Florida woman suffered apparent stab wounds during a car accident, and it wasn't until her mother received a recall notice a month later that law enforcement officers could link the "stab wounds" to the faulty Takata airbag.
The airbags seem to face problems especially in high-humidity states like Florida, to the extent that replacement airbags are being rerouted from low-humidity states to our area first. The problem is so dangerous that even when a replacement airbag isn't available, dealerships will disable airbags until a replacement can be installed. The recall notice advises drivers to "act immediately," as the consequences of waiting can be fatal.
If you're not sure whether your vehicle is included in this or any recall, navigate to https://www.safercar.gov/ and enter your vehicle's VIN number. If you're subject to a recall, you'll see notifications there.
If you or someone you love is injured in any accident–and espeically if it's the manufacturer's fault–call your Orlando car accident attorneys at Legally Pink Law, PLLC for representation.