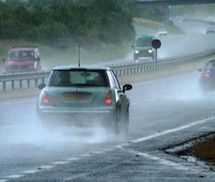 Orlando car accident attorney Carolyn Salzmann of Legally Pink Law is reminding Central Florida drivers of the nation's top three causes of accidents. The number two cause of accidents is completely under each driver's control and prevention is key. Speeding is exceptionally dangerous and cause more harm than you might think.
While we may look for shortcuts and convenience in other areas of life, time on the road is not where you'll want to try and eek out extra minutes. Speeding is one of the most prevalent causes of car accident today according to the U.S. Department of Transportation, contributing to as many as a third of all car accidents in America. Speed limits are selected based on usage patterns, road conditions, roadway materials, and more. Use caution and always drive within posted limits.
If you do find yourself speeding, you can put the kids on the backseat on "speed patrol." Ask them to tell you when you're driving too fast, and having them check up on you every so often will help you train yourself to monitor speed. If you've been in any accident for any reason, contact your Orlando car accident attorney today.